CORPORATE OFFICE
Executive Support Unit
Executive Support Office plays an important role in the Executive Office. Consisting of two staff their responsibilities include:
To complement the CEO's daily function
Board Secretarial
Management Committee secretarial
Board Sub Committee Secretarial
General Correspondences
Driving duties
Prepare identification cards for all WAF Staff
Any other Administrative Functions as directed by CEO
Meet our Executive Support Team:
From Left :Albert Prasad (Executive Driver) Nina Nadaku- Project Officer, Harmahindera Sharma( Executive Personal Assistant to CEO)Timaima Biaudamu,( Executive Support Officer)
Internal Audit Unit
The Internal Audit Unit was established through the foresight of the Chief Executive Officer and the Board in trying to minimise wastage,maximise accountability in its operations and administration and in achieving its vision and mission in the delivery of its core functions.
Meet our Internal Audit Team:
Sitting L-R: Josaia Sadole-Team Leader
Standing L-R: Muni Krishna-Internal Auditor, Isimeli Kunabuli- Lead Investigator,Edward Lee-Investigator, Ratu Joseva Gaunavou (Driver IA) Noa Rokotoro-Project Staff,
Strategic Planning Unit
The Strategic Planning Unit was established for the following reasons:
1.
Construction and Formulation of Key Strategic Documents
3.
Identifying Opportunities
4.
Forecasting and Planning
5.
Analysis and Information Presentation to Management for Decision Making
6.
New Business Development
Meet our Strategic Planning Team: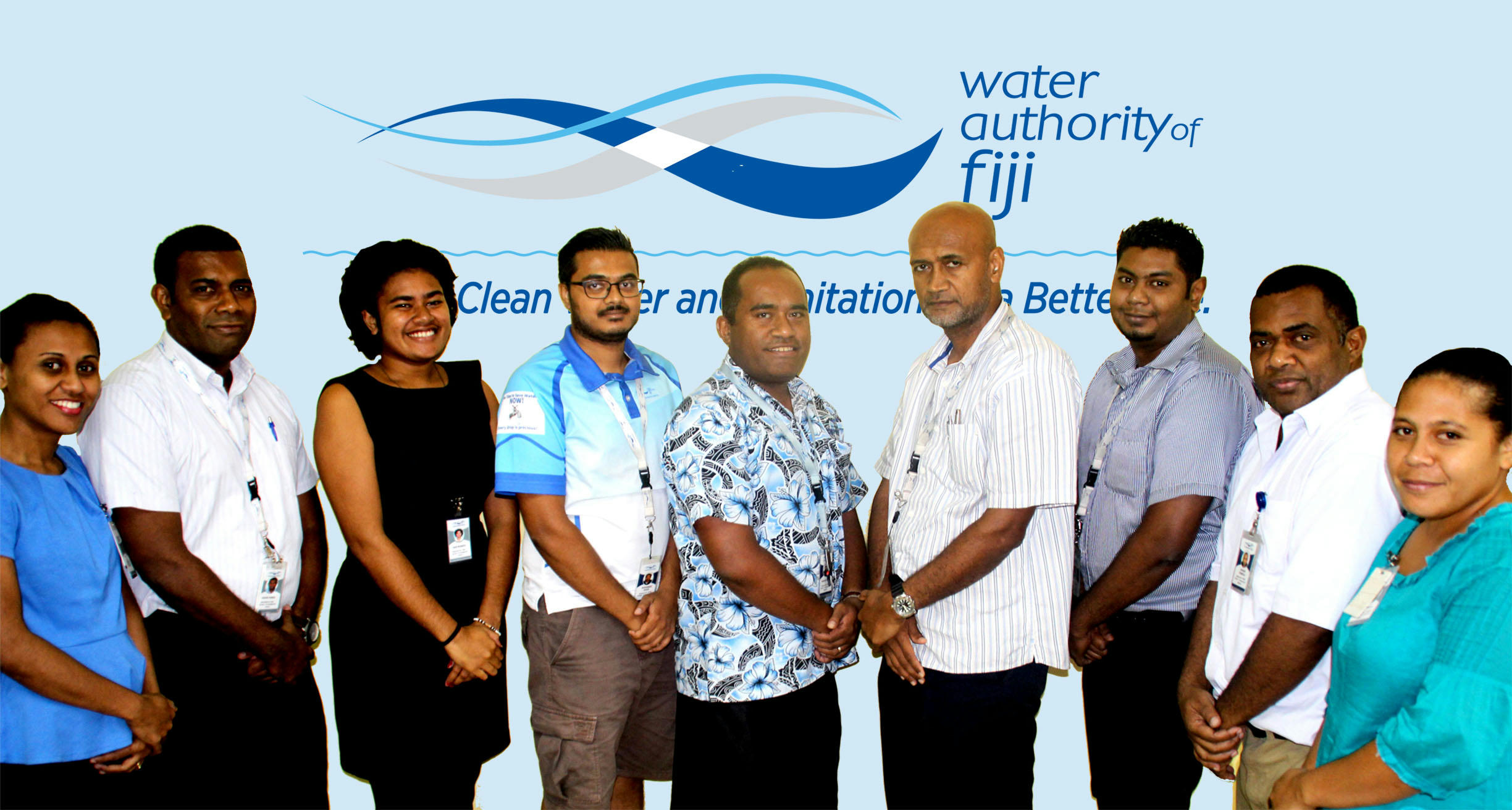 Standing L-R: Loraini Qiokacikaci (Business Process Support) ,Aisake Rabuli (Fleet Analyst), Talei Waibuta( Suport Officer Acquarating), Mohammed Shahil (Business Anaylst), Manasa Tusulu (Senior Business Analyst), Tevita Mau- Manager Strategic Planning, Moneel Mohit Kumar (Business Analyst), Apakuki Vunibola (Business Analyst Process Re-enginee), Lilieta Dimilai(Clerical Officer)
Meet our Quality Assurance and Data Management Team:
From Left- Right Standing – Samisoni Uluitu( PL), Mataiyasi Bulivou(QA Officer), Lemeki Taviraki (Data Management Officer), Tomasi Roqica (Data Management Officer), Seru Rakukadamu ( Data Management Officer) Kitione Waqabaca(Data Management Officer), Moape Ralulu (Data Management Officer),
Sitting from Left to Right: Dominic Bulivou ( QA Officer), Akesa Lagilagi ( Snr QA Analyst) Reema Deo (QA officer)
Legal Unit
The primary role of the Legal Department is to provide legal advice and interpretation service on existing laws and regulatory requirements to ensure compliance.
Sitting: Manager Legal/Board Secretary- Talei Ligairi
Left-Right: Paula Vea- Legal Officer, Raymond Traill-Investigation Support Officer,, Akosita Matakaca- Senior Legal Officer, Saimoni Matasarasara- Board Compliance Officer
Sitting: Talei Ligairi-Manager Legal
Corporate Communications Unit
The WAF Corporate Communications Unit is responsible for the Water Authority of Fiji's Media Relations, Corporate Imaging, Branding, Marketing, and Public Relations.
Meet our Corporate Communication Team:
(L-R) Peni M Shute - Acting Team Leader Corporate Communications, Lavinia Vulawalu - Corporate Communications - Graphic Designer, Unaisi Waqa - Corporate Communications Officer (West), Alisi Vucago - Corporate Communications Officer (North), Samuela Saumaisue - Driver Corporate Communications
Human Resources Unit
The Human Resources Unit objective is to provide support, develop the talent, and ensure compliance to Occupational & Health standards and give Management advice on industrial relations issues and emerging HR trends.
Meet our Human Resources Team:
Rural and Outer Island Maritime Scheme
WAF's Rural and Maritime Water Supply (RMWS) Unit'S core functions under the new Rural Water and Sanitation Policy (RWSP) are closely aligned to the pillars in the People's Charter for Change, Peace and Progress as well as the strategies and policies outlined in the Roadmap for Democracy and the Sustainable Socio – Economic Development (RDSSED) Framework.
Under the new RWSP, it is also aligned to support the United Nations mandate as declared under the Millennium Development Goals (MDGs).
The RMWS aims to achieve four key basic fundamental building blocks needed for an efficient and sustainable water resources and wastewater systems in Fiji.
They are:
(i)
Strengthening the capacity for water and sanitation planning and engineering through the effective implementation of appropriate policies and management plans in the rural areas,
(ii)
Adopting management framework that is structured and efficient,
(iii)
Enhancing water supply quality and sustainability through effective
collaboration with relevant stakeholders, and
(iv)
Increasing access to affordable, reliable and high-quality clean drinking water and safe wastewater management and sanitation systems.
RMWS under the governance of RWSP in its capacity as a Medium Term Policy aims to strengthen and improve water supply services and wastewater management services in the rural areas of Fiji in years to come.
Meet our Rural Team: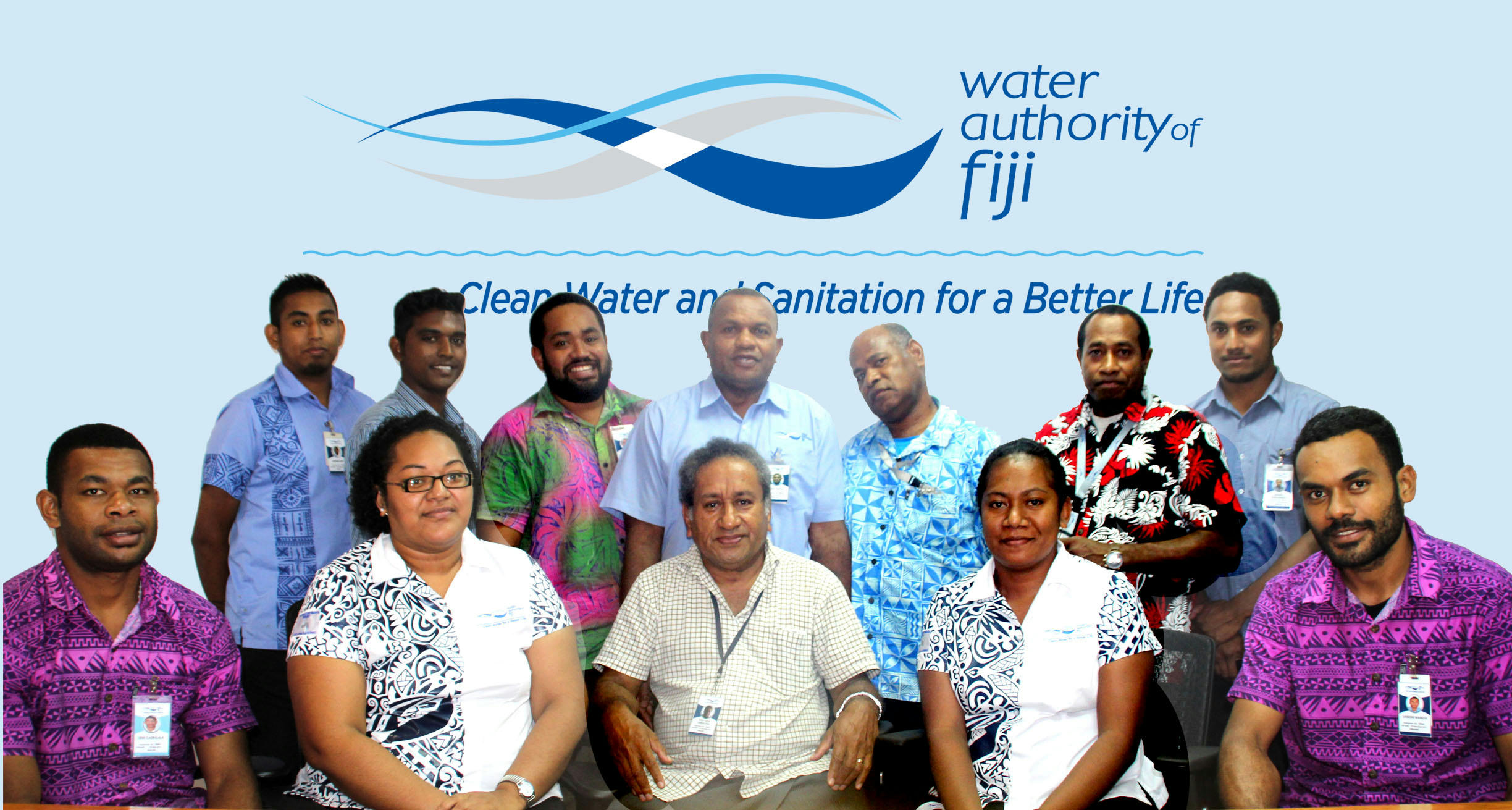 Standing L-R: Mr. Edward Sukh (Project Leader West), Mr. Kavitesh Chand (Project Leader North), Mr. Jekope FIniasi (Project Leader Central),Mr. Maika Nagalu (PRO), Mr. Rupeni Radio (Clerical Officer), Mr. Waqa Kasainaseva (Clerk), Mr. Lusiano Koroiveibau (G.E)

Sitting L-R: Mr. Semi Cadralala (Attachee), Ms. Litiana Talei (Clerical Officer), Mr. Vula Vakacegu (Manager Regional Water Development Affairs), Ms. Sekolaia Tale (Support Officer- MRWDA), Mr. Saimoni Waibuta Jnr (G.E)
Security Unit
The main functions of WAF Security Unit is to provide general Security services for the organisation in ensuring that Water Authority of Fiji achieves its objectives, Mission and Vision.
Meet our Security Unit:
From left-right (front)-Peni Galuvakadua – Team Leader Security Fiji, Apolosi Tarakinikini – Supervisor Security Fiji, Paulo Vuli – Security Officer Wailoku, Jonacani Salabula – Site Commander National Office, Adriu Solomone – Security Officer National Office, Timoci Bainivalu – Security Officer Wailoku
From left-right (back) Leone Lautabui – Security Driver, Asesela Cabe – Security Officer National Office, Filipe Alifereti – Security Officer National Office, Joela Sovalevu – Security Officer National Office, Joseva Ceinaturaga – Security Officer Wailoku, Iliesa Veretaki – Security Officer National Office, Tevita Tawake – Security Officer National Office